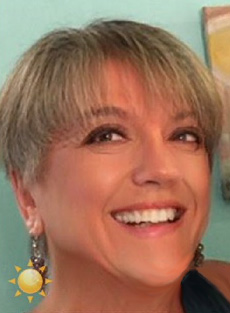 Pianist/composer/recording artist Mel White started with a dream of having a "Top 40 hit". That was when she was in high school and had only written maybe 200 songs. Eventually the dream transformed into a dream of bringing life-affirming music to a world in need of it, and to help people smile, cry, get clarity in their lives, and heal their hearts. That was after she began calling herself "God's Troubadour" and "The Johnny Appleseed of Love".
How did this switch occur?
Mel has perfect pitch and started picking songs out at the age of 3. So she became a classically trained pianist (Lillian Hawley Gearhart, Tsuya Matsuki) and performed in recitals and at school. Having grown up in Maplewood NJ (graduating from Columbia High School there), Mel went on to Cedar Crest College in Allentown PA, studying with Wilbur Hollman there and playing for the choir. After marrying her first husband, Rudy Koch, she played with a rock group in the Lehigh Valley and learned what it was to be handed a paycheck after doing something you loved so much that you would do it for free. But she saw no clear road to making a living from her music, so she took other jobs to pay bills. By now she had accompanied shows, both in school and community theater, and taught some piano students. These were seeds that would grow throughout her life. Raising her two sons, Jeremy and David, and her "day jobs" took up her time for quite a few years. Songs got written but kept in her trusty notebook.
In 1985, after a friendly divorce, Mel married her second husband, Donald White. They met while doing the show "Promises Promises". She worked for a while in a law firm in NYC. Eventually the music within her started to push its way out. When Mel cut back on her work time, the music poured out like someone turned on a faucet. The result was her first CD, "Looking for the Gift," released a month after she turned 50. The Universe then began to provide all sorts of wonderful singers and musicians who in turn appeared at gigs with Mel, and on her CDs. As her spiritual path and her musical path began to coincide, her lyrics grew too -- and they are non-denominational and life-affirming. They speak to oneness, a "bigger box" rather than smaller ones, emphasizing the "many more ways we're connected than ways we are set apart." "We are all different AND we are one," her songs proclaim. So that's how she became "God's Troubadour". She entertained thousands of people, and trained many piano students to let the melody sing. A favorite place to play was the Duplex in NYC. Through her favorite job (as church music director for 12 years) she developed the Rainbow Peace Choir and they did many holiday concerts together.
The Rainbow Peace Choir followed Mel after she had to leave her church job. They and the soloists who believed in this music started doing benefit concerts with Mel, raising money for such causes as tsunami relief, Hurricane Katrina relief, Haiti (twice), Make A Wish, World Peace, Smile Train and Habitat for Humanity, among others. Her greatest joy is "double-dipping" -- sharing her music and words and also helping others by raising money for good causes. Grateful for every chance she gets to do this, she hopes to do more benefit concerts now that she lives in Rehoboth Beach, Delaware, with her husband Donald, a retired music teacher. She'd like to "kidnap" a choir to sing with her, find soloists, a venue and backing from groups who believe in what she does. She's working on a book which describes the stories behind her songs. And after many years of teaching piano privately and at the South Orange/Maplewood Adult School in NJ, she would love to find a couple of new piano students!
Over the years Mel has been asked to perform in various places in New Jersey, New York, Pennsylvania, Connecticut, California, Florida and Virginia. She even found a piano or two in Italy when she visited there! Her songs have been translated into other languages and are sung in Italy, Poland, France, England, Germany and Israel. Recent downloads from Switzerland, Russia, Mexico, Canada, Indonesia, Japan, Singapore, Australia and Malaysia demonstrate the broad popularity and universality of her work. Her body of work now contains 10 CDs, two of them double albums. She also has some songbooks for several of her CDs. Thanks to her friend Aimee Gusky, there are several new videos. Mel maintains that she is living proof that it's never too late to get serious about following your True Purpose!